Has been working since 2000
Dr S. V. Ramesh believes in using natural healing abilities of the body. He adopts the best procedures in treating and rehabilitation of patients.
Dr. S. V. Ramesh through his exceptional communication skills and a huge experience educates his patients and makes them aware of physical health & fitness. Under his guidance on lifestyle changes, food habits and fitness training many patients have got benefited to date.
We offer the highest standards of treatment and patient care and are committed to our patient's health and long-term wellness.
Consulted by Experienced Physios
Our highly trained team of physios uses the latest modern types of equipment and healing technologies to restore your health quickly and easily from pain. We understand through consultation sessions the root causes of your pain or issue. We thoroughly examine and treat all factors related to your health issue. We consider your working styles, overall body condition, your nutrition, postural habits, genetic and emotional patterns that are resulting in your health issue. We consult you on various aspects and provide solutions for long-term healing.  We believe in the body's natural healing abilities and focus whole treatment around it. Now Online Consultation is available.
ORTHO CARE PHYSIOTHERAPY & REHAB CENTRE
11, Patils Heritage,
Nr Tambe Nagar, Nxt to BOI,
Below Ria Nursing Home,
Mulund - (W), Mumbai - 80.
M: 7666107490
Visit Us:
Mon - Sun: 9:00am to 1:00pm & 4:00pm to 9:30pm
Call and schedule your prior appointment before visiting the clinic to avoid waiting time.
Patients Treated Till Date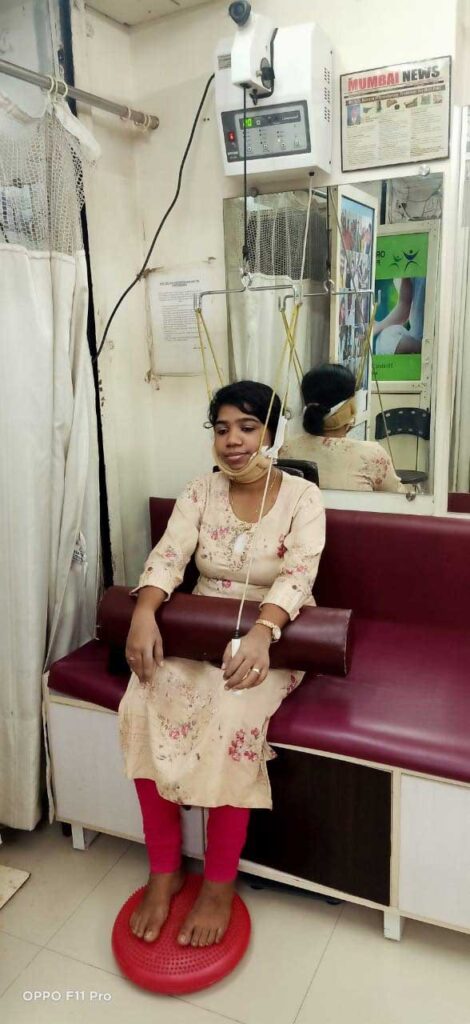 Dr. S V Ramesh is one of the most renowned Physiotherapy Consultants in Mulund. We give you specialized treatment for Back Pain and Neck Pain. We provide an efficient way of getting rid of pain and getting back to your healthy lifestyle.
Fatest Recovery
Our Physiotherapists help you for the fastest recovery after major surgeries like cardiac, orthopedic, cancer prevention so as to regain motion and muscle strength. 
Presence Across Mumbai
We have successfully rehabilitated more than 5000 patients to date in all our clinics across Mumbai. We are expanding our clinics across Mumbai.
Specialisation
Physio after Knee Replacement
Physio after Spine Surgery
Physio for Weight Reduction Program
Sport Injuries
We are specialized in treating sports injuries like a muscle strain or a ligament sprain. We treat all types of pain with the most advanced exercise routines.
Dedicated Team
We focus on using the natural healing abilities of your body. We have a strong team of more than 26 Physio Therapists. We follow an integrated healing approach by Dr. S V Ramesh. 
Latest Equipments
We are upgraded with all the latest & advanced Physiotherapy types of equipment. We use the latest technologies available.
We care about you and your health. Our treatment is based on the natural healing abilities of your body.
We provide our clients with an extensive range of treatments.  Our treatments included online or offline consultation by Dr. S V Ramesh, followed by advanced physiotherapy exercises, ergonomic physiotherapy and sports physiotherapy. Our wide range of treatments include the following:
Advance Physiotherapy Treatment with PEMF
Laser
Short Wave Diathermy
Pelvic Traction
Intermittent Cervical Traction
Interferential Therapy
Ultrasound Therapy
Muscle/Nerve Simulator
Moist Heat Paraffin Wax
TENS Therapy
Paediatric Rehabilitation
Sports Injury
Post Operative Physiotherapy
Dry Needing
Stationary Bicycling
All Excercise Equipment
Cerebral Palsy & Delayed Mile Stones
Cervical Spondylosis
Trapezitis
Frozen Shoulder
Tennis Elbow
Painful Wrist
Lumbar Spondylosis
Sciatica 
Low Back Pain
Osteoarthritis
Ankle Sprain
Plantar Fascitis
Wrist Drop/Foot Drop
Facial Palsy
Hemi Plegia
Post Operative Stiff Joints.
Visit us at our locations below:
Bhandup - (West)
MISSION NEUROCARE
G-65, Runwal Galleria,
Near Fortis Hospital,
Mulund Goregaon Link Road, Bhandup West, Mumbai 400078
Thakurli - (East)
Care & Cure
Building No. 1, Shop No. 23,
Balaji Aangan, New 90ft Road,
Thakurli – East.
Maharashtra 400053